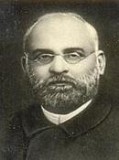 Krantiveer Pt. Shyamaji Krishna Varma  (Oct 4,1857-Mar 30, 1930)
  Shyamaji Krishna Varma was a great Arya Samajst, a nationalist,a journalist, a lawyer and a revolutionary, who fought the British  from their own soil. He was the first Indian Bar-at-law, and a graduate of Balliol College, Oxford University. He was also a noted scholar in Sanskrit for which he was decorated with the title of 'Pandit' by Kashi pundits' organization. Greatly influenced by swami Dayanand Saraswati, he became his ardent devotee, a member and then the president of Bombay Arya Samaj. An admirer of Dayanand Saraswati 's approach of cultural nationalism, and of Herbert Spencer, Krishna Varma believed in Spencer's dictum "Resistance to aggression is not simply justified, but imperative".
On 18th Feb 1906 Shyamji established "The Indian Home Rule Society"
He established.India House as a hostel for Indian students based at 65, Cromwell Avenue, Hughgate in London. India House soon developed as an organized meeting point for radical nationalists among Indian students in Britain and one of the most prominent centers for revolutionary Indian nationalism outside India. Most famous among the members of the organization were V. D. Savarkar, Madam Kama,Sardar Singh Rana, Madan Lal Dhingra, Gandhi.          India House: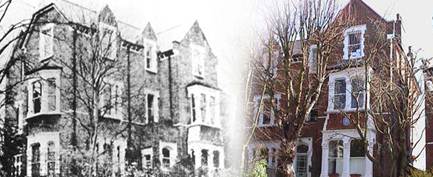 In London  Shyamji published an anti colonial newspaper The Indian Sociologist. On account of his political activities, he was forced to leave England. He arrived in paris in early 1907to continue his work for freedom of India. In the wake of First World War, he left for Switzerland. 
 Shyamaji Krishna Varma was born on 4th October, 1857 in Mandvi, a province in Kutch, Gujarat  to Karsan Bhanushali, and Gomati Ba. His mother died when Shyamaji was only eleven years old. Shyamji Krishna Varma was then raised by his grandmother. He had his primary education in the village school at Mandvi and thereafter completed his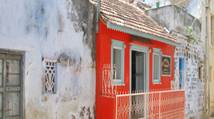 Secondary education in Bhuj. He went to Mumbai for further       education at Wilson High School . In Mumbai, he learnt Sanskrit language in great depth from Shashtri Vishvanath and mastered the language. In 1875 Shyamaji Krishna Varma got married to Bhanumati, daughter of a wealthy businessman, from the Bhatia community.
Inspired by Rishi Dayanand in 1877, he Toured India to propagate the philosophy of Vedas and earned the title of "Pandit" from the pundits of Kashi. In 1878 Shyamji Joined professor Monier Williams as his assistant to help him in translation of  Vedas.
In 1879 Shyam ji joined Balliol College, Oxford as assistant professor in Sanskrit. In 1881 he represented India at the Berlin Congress of Orientalists and read a paper on "Sanskrit as a Living Language of India"
During 1885 to 1895 Shyam ji Krishna Varma returned to India and served as Diwan (Principal Secretary) of Ratlam, practised as a lawyer at Ajmer and also became the Diwan of Ajmer. He was also appointed as the council member with Maharaja of Udaipur and later he served as the Diwan of Junagadh State.
Nationalism and Social Reforms
     Shyamji Krishna Varma was highly impressed with Rishi Dayanand brand of nationalism, religious and social reforms. He fully supported Tilak during the consent of Age Bill Controversy of 1890. Shyamji initiated friendly relations with Tilak, which inspired him to the Nationalist Movement in the next decade.  But soon the timid and futile cooperative policy of Congress Party did not appeal to Shyamji. He dejected the petitioning, praying, protesting, cooperating and collaborating policy of the Congress Party, which he considered undignified and shameful.
     In 1897, the atrocities inflicted during the plague crisis in Poona on Indians by the British Government, stunned and shocked Shyamji. At this point in life, he felt full justification for the Nationalist stand taken by Nathu brothers and Tilak. When he saw them sentenced to a barbarous imprisonment, he imagined his future also ending up in jail like others. His immediate decision was to give up his lucrative career and to immigrate to England with a view to carry out the freedom fight from abroad. Now, he had only one business in mind - training and inspiring the young sons and daughters of India to strive for the liberty of their Motherland.
     Upon his arrival in London, he stayed at the Inner Temple and studied Herbert Spencer's writings in his spare time. In 1900 he bought an expensive house in HighGate. His home became a base for all political leaders of India. Gandhiji, Lenin, Tilak, Lala Lajpat Rai, Gopal Krishna Gokhale, and many more visited him to discuss the Indian Independence Movement. Avoiding  the  Indian National Congress,  he kept in contact with the rationalists, free thinkers, national and social democrats, socialists, Irish republicans, etc
He decided to dedicate all his money, time, scholarship, literary power and above all his life to serve his Motherland selflessly. He deliberately intended to launch uncompromising propaganda and to create support in England and Europe for the independence of India. In 1898, when a free press defence committee was formed in order to resist police attack upon liberty of all opinions, Shyamji subscribed generously to its funds.
Shyamji was also a great admirer of Herbert Spencer's philosophy. Herbert Spencer died 14th December 1903 and in his honor Shyamji established an annual lectureship at Oxford for the sum of £1000. In addition, he endowed a Swami Dayanand fellowship and many other fellowships in honor of great Indians.
Life and Work in England
 In 1905, Shyamji embarked on a new career as a full-fledged propagandist to free Mother India. He made his debut by publishing the first issue of his English monthly "The Indian Sociologist" - an organ of freedom and of political, social and religious reform. This powerful ideological monthly served a great purpose in uplifting the mass against British rule and encouraged many more intellectual revolutionaries in India and abroad to fight for the freedom of India. On 18th February 1905, Shyamji inaugurated a new organisation called "The Indian Home Rule Society". The first meeting for the same was held at Shyamji's residence at HighGate and the meeting unanimously decided to found "The Indian Home Rule Society" with the object of:
1. Securing home rule for India
2. Carrying on propaganda for support.
In the wake of World War I, Shyamji had moved his headquarters to Geneva in 1914. Due to the outbreak of war, Shyamji stopped the publication of "Indian Sociologist" and resumed publication in 1920. His last two issues of "Indian Sociologist", as per his wish, were to be taken as his last will and testament of his work. After several health problems, the great patriot, Shyamji Krishna Varma, passed away on 30th March 1930 far away from his beloved Motherland India.
  News of his death was suppressed by the British government in India. Nevertheless tributes were paid to him by Sardar Bhagat Singh and his co-revolutionist brothers in Lahore Jail where they were undergoing a long-term drawn out trial. Maratha, a daily newspaper started by Shri Tilak in Marathi, paid very touching tribute to him as a great revolutionary.
We bow to the memory of such a great visionary, statesman, scholar, revolutionary who sacrificed all his life, time and money for mother India.
 Commemoration:   Pandit Shyamaji Krishna Varma did not live to witness the independence of Bharat, but his efforts, conviction and confidence of India gaining its freedom from British rule in future was strong and unshakable as he made the prepaid arrangements with the local government of Geneva, Ville de Geneve, and St Georges cemetery to preserve his and his wife's ashes (Asthis) at the cemetery for one hundred years and to send their urns to India whenever it becomes independent during that period.

Shri Narendra Modi, Chief Minister of Gujarat State, finally succeeded in returning the urns of Pandit Shyamji and his wife Bhanumati on August 22, 2003 - fifty five years after Indian Independence.
A grand memorial, called Kranti Teerth has been built in Kuchh, Gujrat
 The urns of ashes of Shyamji and his wife were brought from Geneva, Switzerland to lay at rest in this memorial

Kranti Teerth Memorial
Kranti Teerth Memorial For Pt shyam ji Krishna Verma is located near Lohana Mahajan Wadi. The Smarak of Shyamji Krishna Varma was newly build just 3 km away from Mandvi on Mandvi-Dhrabudi Road The Memorial's objective is to pay tribute to the contribution of Shyamji Krishna Varma and also to educate the young generation about those great Indians who sacrificed everything for the country's freedom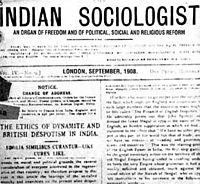 The Indian Sociologist of September, 1908, London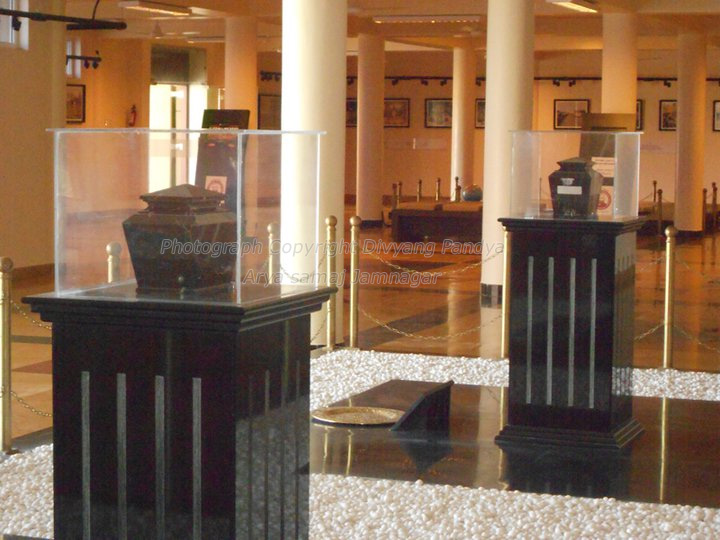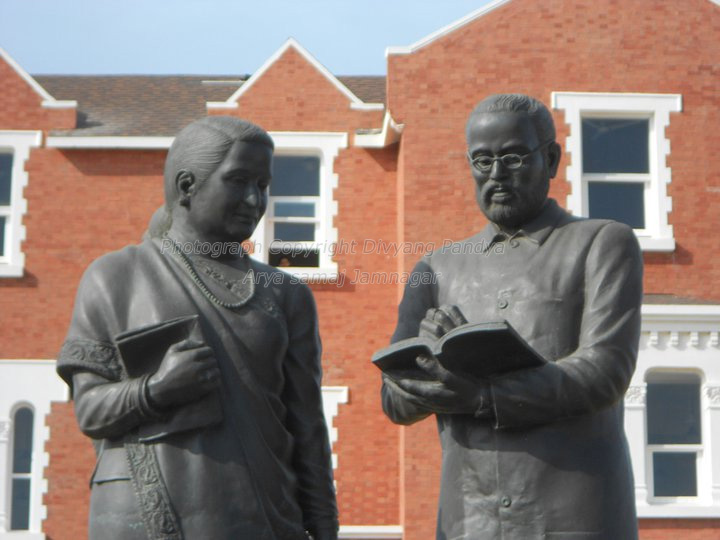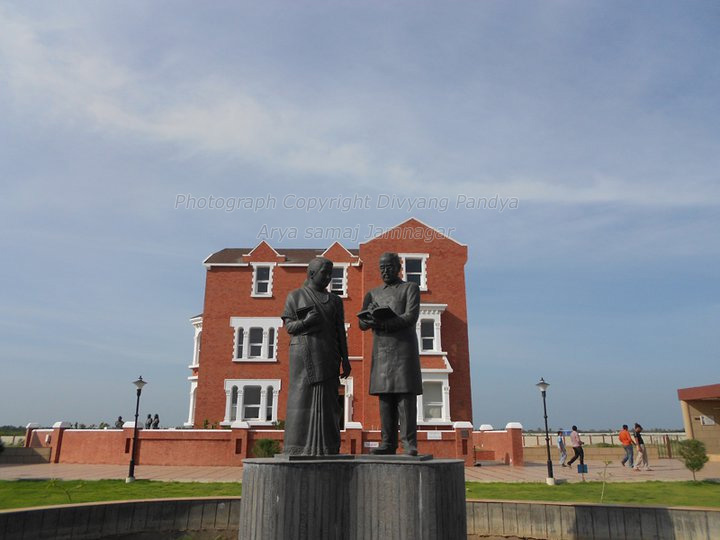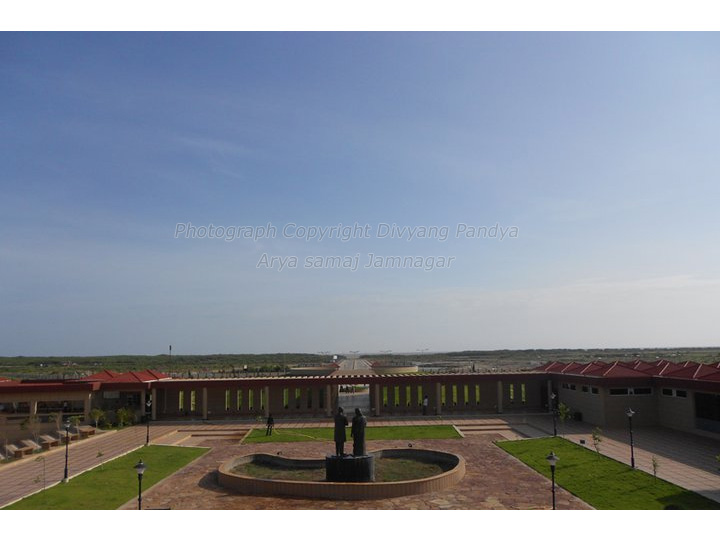 The memorial The memorial has a replica of the famous India House, a library and a research centre to study the contributions of Shyamji Varma and other great revolutionaries to the country's freedom movement. Moreover, it also has on display paintings of the famous Indian revolutionaries which have been painted by some of the renowned artists.

Shyamji Krishna Varma Smriti Kaksha
The urns containing the ashes of the great freedom fighter Shyamji Krishna Varma and his wife Bhanumati Krishnavarma are kept in the Smriti Kaksh of the Memorial. This gallery pays homage to the memory of one of India s foremost nationalists and to his wife who was his strongest supporter and constant companion.

 Excerpts of The Indian Sociologist, his publication which was an organ of freedom and of political, social and religious reform, are also displayed.,

Dayananda Saraswati Chowk

at the memorial: The memorial has a gallery that is dedicated to

Swami Dayanand Saraswati.  Swami ji's work and birth place - Tankara , Gujarat are displayed. Swami Dayanand greatly inspired Krantiveer Shyamji.

The gallery displays glimpses of Swami Dayanand Saraswati's, work and birth place - Tankara , Gujarat. Swami Dayanand greatly inspired Krantiveer Shyamji.
Additionals:
To read more: http://www.krantiteerth.org/about-shyamji-krishna-verma.html